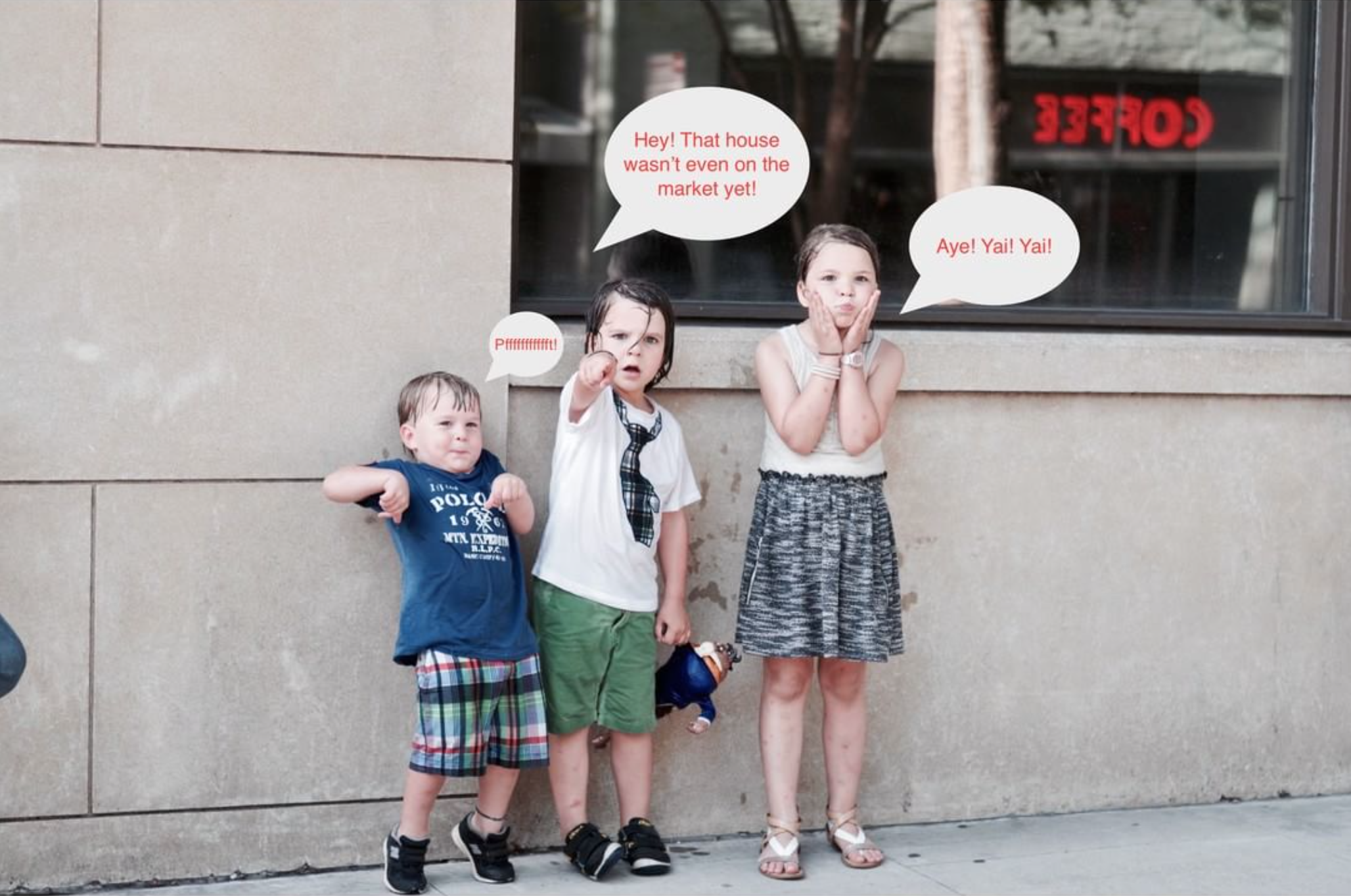 This is a picture that we took last year of the kids during one of the many amazing festivals in Downtown Raleigh, only one of the myriad of reasons people are swarming to the area or enjoy living here. (If you are new to the area or haven't experienced all the many happenings of DTR, check it out here or here).
The captions we added to this picture were funny last Summer, but they are even more appropriate now!
If you can relate to this picture, this post is for you! Are you having trouble finding the perfect house in time to be able to make an offer? Are you frustrated that every time you call the agent on a sign, they tell you that the house you are calling about is already under contract? Are you afraid to put your house on the market because you haven't found the perfect place....but you can't make on offer fast enough if your house isn't sold?
There is no doubt this is an exciting time for the Raleigh, Durham, Chapel Hill (and surrounding areas known as the Triangle Area), but it can be overwhelming and frustrating for those who are trying to relocate within and to the Triangle. We are getting more and more calls from clients that feel like finding a house is a hopeless task. It isn't! There are ways to position yourself and to continue the search with more success and less frustration, and we are experienced at helping you do just that.
How can I position myself to buy a house in such a HOT market?
This may sound like a pitch...but here is the truth:
You will do better in this market with a seasoned and attentive real estate agent as your advocate. We believe this is always the case, but it is especially imporatant right now.
Here are just a few of the ways your agent can and should help you purchase in this current market.
1. You need an agent that has good resources and connections in the lending world and helps you to place yourself in a position in the the best possible situation to make an offer, before ever looking at houses. With as quickly as homes are selling (some before they even officially hit the market), your financing must be in order. Your agent should be very familiar with your background and be in communication with your lender or mortgage broker. It does stand to mention that not all lenders are created equal. This can be the deal breaker for many potential home buyers (and sellers).
2. You need an agent that is available! At the Betty Bargoil Team, we are just that...a team. If one person is not available in a critical moment, there is someone else that is familiar with you and your needs that is available. We are actually a family business, as Justin and I (Chris) are married to Betty's two oldest daughters. We all know and value the importance of your real estate purchase (or sale), and we want you to be able to trust that you are being treated well. We want to work with you, and we want to work with your family and friends, but if it isn't us, don't settle on this one. There are some amazing agents in the Triangle that will give you the attention you deserve right now. You must get to a home and make an offer quickly.
3. We cannot stress enough the importance of having an agent that can negotiate- and negotiate well. A good agent will be able to use his experience of the market and knowledge of your specific situation to present the best possible offer for each home. Negotiating is not solely about offer price. There are many moving parts to each transaction, and several points within each transaction when negotiating comes in to play. Your agent needs to be able to not only get you to contract, but to also carry your deal to closing.
4. Your agent should "work well with others." We know this should go without saying, but having an agent that has good rapport with other agents and professionals involved in the real estate world is priceless. When a listing agent is reviewing multiple similar offers with their sellers, the primary consideration is not solely price, but the ability for the contract to close with a desirable offer. Having a buyer's agent that is known for seeing transactions smoothly to the closing table can be a positively influencing factor when the seller's agent is presenting the offers to their clients.
These are just a few ways that your agent can and should be working for you in this market of high demand. Most importantly, please know that you do not have to do this alone. This is our job, and we love what we do. If you do not have an agent that is advocating for you and helping you to position yourself well in this market, we would love to meet with you or speak to you about your real estate needs.
-Chris Phoenix, Realtor/Broker
Betty Bargoil Team, Remax United